I'm a Voice Actor for Audiobooks, Video Games, Animation, Toys, and More!
Non-Fiction Children's Audiobook

1:32

Southern Accent Audiobook

1:33

Children's Non-Fiction Audiobook

1:50

Classic Children's Audiobook

2:17

Series Audiobook

1:53

Tween Audiobook

3:48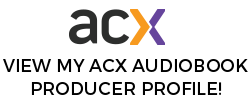 I'm playing a super-crazy-creepy character in the upcoming video game release of FIVE NIGHTS AT FREDDY'S 6! More info soon!
Recording the cutest aspiring actress story for tweens: Oops-A-Daisy (The De La Cruz Diaries Book 1), written by Melody Delgado, published by Clean Reads.

Recording a thrilling cat detective audiobook mystery for kids: Serendipity Mystery: Diary of a Snoopy Cat (Inca Book Series 7), written by R.F. Kristi.

Recording an awesome anime, manga, and cosplay audiobook called Otaku 101: An Introductory Guide to the Otaku Pop Culture, Anime, Manga, and More! (written by Jessica Roar, published by HowExpert Press.)

Recording a bunch of kid voice tracks for a huge music library. Alphabet time! Warning… there's gonna be a whole generation of kids coming up who sound exactly like this girl!
Check out Midwest Book Review's AUDIOBOOK REVIEW of Olivia Turner's Amazing Amazon Adventure.